A new gym recently opened in Summer Hill. The gym replaced the old Blockbuster video store – no doubt to the delight of some public health advocates.
As the renovations were finished a large poster appeared of a 'ripped' man and woman with the threatening challenging imperative – 'Be The "After"'.
I was initially taken aback when I first saw this poster. I hadn't seen many women thumbing their gym shorts in Summer Hill. Or hooded men with six-packs glaring. Both seemed a little out-of-step with the inner-west-come-north-shore aesthetics of Summer Hill.
The following morning my local council member was handing out leaflets at Summer Hill train station. I stopped and asked if he had seen the poster. No, but he'd go and have a look.
A week or so passed and I got more used to the poster. The local council member was leafleting again. I asked him what he thought of the poster.
'A little surprising. I spoke to the owner who said it was temporary but would remove it if people complained.' The local member told me that even some women didn't like it.
Several weeks passed. The poster remained. I took a photo of it to show friends and ask their opinions. Most thought it was pretty "full-on", some wondered what my problem was.
My Problem
It is not the exposed flesh or sexual pose as such, but the portrayal of unrealistic body norms as an ideal. If the models were from the production – Nothing to Lose – or the This Girl Can advertisement then I wouldn't have a problem.
The slogan – 'Be The "After"' – is also problematic for the insistence assumption that everyone needs transforming. However, such transformations are unrealistic and damaging to health and well-being.
This picture from Threadless illustrates this point. Many of the images of fit and healthy bodies are like the unicorn – they don't exist. They are often photo-shopped. However, they are held up as an achievable goal for everyone.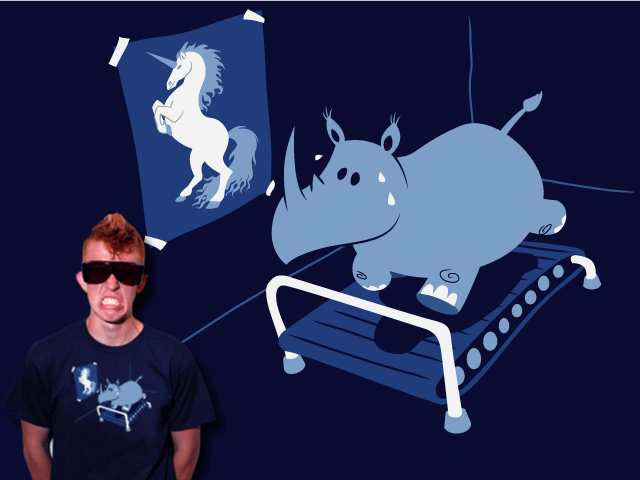 If we work hard and truly believe, we can transform ourselves into the "after".
But in reality we are the rhino – anxiously sweating away on the treadmill wondering when we will transform into a unicorn.
Click this link for more of my thoughts on bodes, health and obesity.
Back to the poster
Yesterday afternoon I went to do some shopping. As I came into the car park I noticed the poster had been defaced. It appears I was not the only one in the community who didn't like this poster. However, unlike my approach of going through the office of elected representatives to bring about change, these folks went with the swifter approach of direct action.
Paint covered the walls above the poster and it appears the woman's torso had been cut out. I am not sure if this was because something had been written there and the owners cut it out or if the people responsible for the defacing cut it out.
While I think it is unfortunate that this will cost the owner in re-painting the walls – and other approaches are perhaps preferable (at least initially) – I do think it was effective in sending a swift message.
Coda
After taking this picture I noticed a young boy (10ish) walk out of the gym. I left and went into the shops. While in the shops, I turned and noticed the boy was taking a picture of me with a phone. I said "Hello". He turned and ran.
After a few minutes I noticed another boy-teenager (17ish) in gym gear waiting in the foyer. I looked at him. He looked at me. I continued my shopping.
When I finished, after about 10mins, the older boy was still in the foyer. I walked passed him. He started following me. I walked through the car park. Still following me. I walked out of the car park and towards some shop windows. I could see his reflection (super sleuth move I know). I quickly turned around and walked directly at him. He turned. I sat down at a park bench. He walked away and back into the gym. Then, I remembered, I forgot to buy light globes.